As of this past Sunday, I am officially in my third trimester! One minute I'm ready, the next I'm not AT ALL. Thank goodness I still have three months to go - there's a LOT of preparation that needs to happen before November 6th.
I mentioned in the last baby bumpdate post that the nursery plans are coming along, and I wanted to share our progress. Since we bought our house in 2012, the 3rd bedroom has never been used for anything purposeful. It was an office for a short period of time until it became the dumping ground for all things wedding... and never really recovered (even though we're nearing our 3rd wedding anniversary). Clearing the room out was daunting but it feels amazing to be able to leave the door open for once, and not have to shut the door out of embarrassment when guests come over. Finally, all of the bedrooms in our house have a purpose and I'm so excited to transform this underutilized space into a sweet, cozy nursery.
This is what the room looked like when we bought the house (apologies for the low-res screen shot, it's from the house listing):
I painted the walls bright white (Benjamin Moore White Dove) and as I was painting it, I envisioned the room as the nursery. I was nowhere near pregnant but we always knew this room would be the nursery, so I painted extra meticulously for our future baby girl / boy. Here is what we are working with now: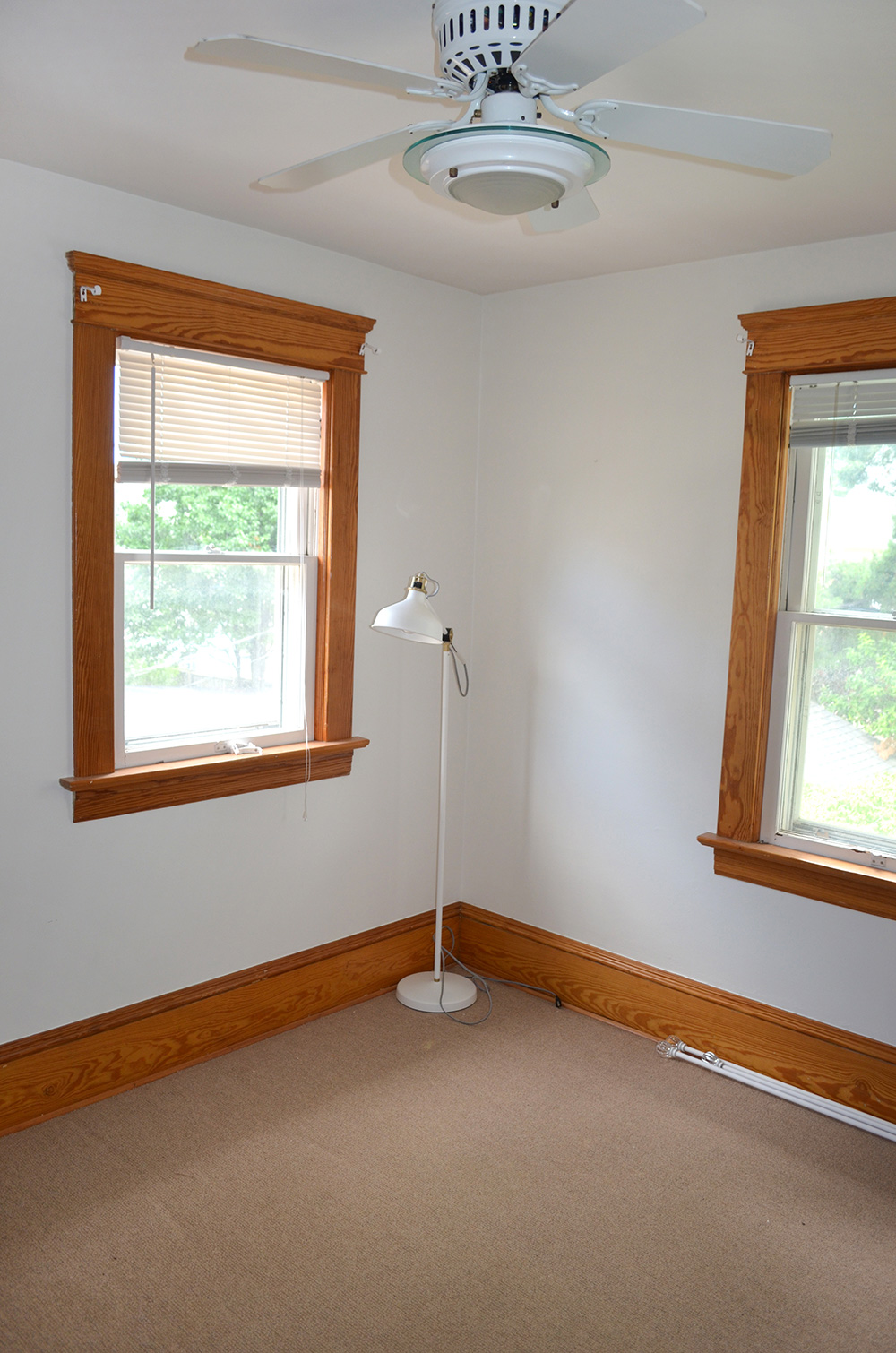 You'll notice that the carpeting is terribly low-grade office carpeting, aka the kind that will give you an immediate rug burn. We hated it. Each bedroom on the 2nd floor has totally different (read: BAD) carpeting, and we were so desperate to update it all with new carpeting. Since we're pinching pennies it wasn't realistic to redo the whole 2nd floor, so we decided to rip up the nursery carpeting on a whim (sound familiar?) knowing that we could afford to re-carpet the small room.
To our surprise, we discovered hardwood floors in near-perfect condition. They were covered in a tacky residue but it was nothing some elbow grease and a good sanding (hours upon hours of sanding - Tim is earning his Great Dad badge!) couldn't fix. In fact, a friend of Tim's from CIA volunteered many of his weekend hours to help us sand the room and teach Tim how to refinish wood floors. I cannot say enough about the generosity and selflessness of good friends - Tim and I are pretty lucky. The floors are almost fully sanded, and here is what they look like today:
Even through the dust, the floors look beautiful. Once the floor is stained and sealed, the trim will be painted white. (Yep, we're doing it! Sorry, natural trim diehards. The stain is orange in person and it's the only room on the 2nd floor that hasn't been painted.) Then, once the trim is painted we can start decorating! It's been really humbling (aka frustrating) to sit back and watch while all of the hard work happens. I'm used to getting my hands dirty and doing my fair share of work, but this little lady is keeping me from exposing myself to dust and other harmful toxins. Instead, I hang out downstairs and twiddle my thumbs while Tim gets to work ;)
The room is small (9' x 10') so we are limited to a few key pieces of furniture, some of which need a dual purpose. We don't have space for a changing table and dresser, so we found a vintage dresser that is the height of a changing table and we will use it for both. To stay on track while planning the nursery, I created a floorplan to scale so that we could nix pieces of furniture that wouldn't fit within their designated space. I highly recommend it, especially if you are thrifting vintage pieces. Having measurements with you (I kept mine in my purse) helps you narrow down what will and will not work. The decor is a work in progress, much like the floorplan. Here are three options:
The doorway is in the top left corner with the closet on the lefthand side. One window on the bottom wall and one on the right make for tricky furniture positioning, especially given the small room. The recliner, crib, dresser and some sort of storage (whether it's a bookshelf or a cube storage system) will be the main furniture pieces, and a large rug will cozy up the newly finished floors.
That's it for the nursery update, at least for now. We have less than three months to go and a lot left to do, but we're making steady progress. We'll have a decor-ready room in no time! Do you have any small-space living tips or ideas on how to maximize a teeny tiny nursery? I'd love to hear.
Stay dry and have a wonderful weekend!